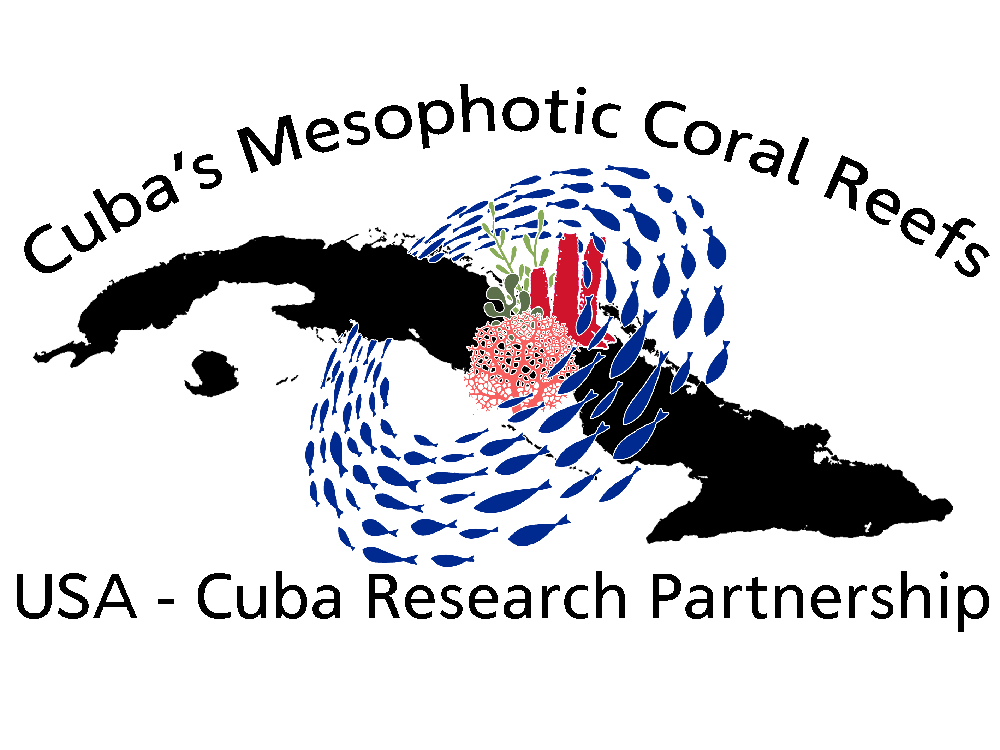 Cuba's Mesophotic Coral Reefs is a collaboration between Cuban and USA scientists' research on the deep mesophotic coral reefs and fish communities of Cuba.
This US-Cuba Collaboration of Cuba's Mesophotic Coral Reefs resulted in an expedition on May 14 to June 13, 2017.  This cruise was set out to map and characterize, the extent and health of mesophotic coral ecosystems (MCEs) along the entire coastline of Cuba. Over the one month cruise we transited ~2,778 km (~1,500 nmi). Forty-three Remotely Operated Vehicle (ROV) dives at 36 different stations confirmed the presence of MCEs habitat on all coasts of Cuba (Figure 1; Reed et al. 2018). ROV dives surveyed reefs from depths of 188 m to 18 m, covering 27 km, totaled 99 hours of bottom time, and 110 hours of high-definition video. Check out our Daily Mission Logs.
Mesophotic Coral Reef Ecosystems
Mesophotic coral reef ecosystems (MCEs) are light-dependent benthic communities that occur deeper than shallow reefs and typically range from depths of 30 m to the bottom of the photic zone, which may extend to >150 m in some regions. MCEs represent in part an extension of shallow-water coral reef ecosystems and support a diverse assemblage of habitat-building taxa, including corals, sponges and algae, and associated commercial and recreational fisheries (Reed, González-Díaz, Busutil 2018).
Discovery
A total of 21,146 digital still images documented habitat and species. The primary geomorphological features were the Deep Island Slope (125- >150 m), Deep Fore-Reef Escarpment (the 'Wall', 50-125 m; Figure 2), and Deep Fore-Reef Slope (30-50 m). Most vertical surfaces of the Wall were covered with dense sponges, algae, octocorals (soft corals), and black corals. Agaricia was the most abundant hard coral on the Wall at depths of 50-75 m, and was seen as deep as 122 m. A total of 343 specimens were collected including several new species of sponges (Busutil et al. 2018 & Figure 3).
A total of 477 taxa of benthic macrobiota and 178 fish species were identified from the ROV video/photo surveys and from the specimens collected. These included 296 sponge taxa, 46 Scleractinia (hard corals), and 63 macroalgae.
Deep Reef Refugia Hypothesis
Many MCEs worldwide appear to be thriving compared to shallow reefs. The deep reef refugia hypothesis suggests that MCEs may be less impacted from natural and anthropogenic impacts than shallow coral reefs, and may be more stable and resilient than shallow reefs. MCEs may also act as refugia for shallow reef species through the export of fish and coral larvae. However, it is now apparent that MCEs are also vulnerable to disturbances from all facets of perturbations including climate change, bottom trawling, invasive species, and pollution.
Relatively little is known about the distribution, community structure and health of Cuba's deep mesophotic reefs despite considerable data having been reported regarding the distribution, ecology, and health of Cuba's shallow reefs world wide. Cuba's strong marine policies and legislation has already resulted in 105 Marine Protected Areas (MPAs), covering nearly 25% of its insular shelf, yet overfishing, poaching, pollution and global warming are threats to these vulnerable ecosystems, as reefs worldwide are threatened.